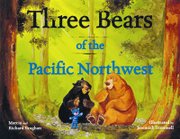 Three Bears of the Pacific Northwest is a sweet story about two bears helping a child's toy get back home, set against a backdrop of Washington state scenery.
It all starts when a blue teddy bear tumbles out of the arms of his "boy" while riding in an RV.
He bounces along the mountain road and meets up with a brown bear and a black bear who agree to help him search for the blue bear's "boy".
What follows is an introduction to creatures great and small in Washington state, whether it's an elk, skunk, bald eagle or even an octopus.
The adventure features life lessons of the wild, such as the friendly seal who encourages the bears to hurry along with him when they encounter an Orca pod. "They snack on seals," the seal cautions.
Not only do children receive a colorful introduction to animals native to this state, but as they follow the three bears they also see the snow-capped Cascades, the Olympic rain forest and Puget Sound.
Published by Sasquatch Books of Seattle, Three Bears was written by Marcia and Richard Vaughn and illustrated by Jeremiah Trammell.
While the illustrations capture the story and scenery nicely, this is not one of those children's books with a sentence or few words per page.
There's plenty of vocabulary and dialogue to go with the artwork, making it a nice book to read aloud to a child, or for a young reader to tackle on their own.
The only proviso for parents is during the search for the blue teddy bear's "boy," the bears at one point start peeking inside RVs in a campground.
The story makes it sound like it's not a problem for bears and humans to interact. Yes, it's a cute fictional storybook for children, but they need to know caution is in order when dealing with bears in the real world.
That's a minor quibble, though, when looking at the overall work.
It's refreshing to see an artful children's story book that embraces language and reading and dialogue.
The fact it's set right here in our state by Washington writers makes it all the more compelling.
All things considered, here's four cheers for Three Bears.
Three Bears of the Pacific Northwest, written by Marcia and Richard Vaughn