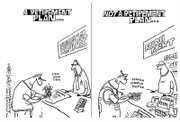 Karl Wyckoff, our top salesman here at the Daily Sun News, is throwing his hat in the ring today and calling it quits. After decades of sales work, with the last three here at the DSN, Karl is retiring.
Karl is an interesting guy and always quick with a story that makes him memorable. But one thing I'll never forget about him is the first time he came out in the DSN's Who's Who special section.
A typo, which is rather ironic coming from a newspaper that reads and re-reads its items before they go to print, listed Karl as Kark.
I probably shouldn't have, but I found this absolutely hilarious. I called him Kark for several days after that and like the good humored guy that he is, Kark took it all in stride.
Soon he became known more for his jokes and stories. Karl has a million of them. After being in the sales business for most of his life, he should.
And Karl never gets tired of telling them, as well he shouldn't.
Recently, I became a single father and to cut costs of daycare, I bring my daughter with me almost everywhere. That includes work sometimes. Karl always made time for Piper and seems to enjoy her company as much as she did his.
A little game they play is my daughter sneaking up, unsuccessfully of course, on Karl and trying to scare the bejesus out of him. He never failed to act properly scared and it never failed to bring a chuckle to my daughter. She calls him the scary guy because she's been so successful at scaring Karl whenever she tries. One day I'm sure she'll figure it out.
When my daughter sits and waits for me to bang out a story, she fills the time by drawing pictures. She presents them to various co-workers, but Karl is a favorite and has a fair share of Piper's artwork.
Hang on to those Karl, they might be worth something some day.
My daughter doesn't want Karl to retire, and neither do I. I'm not alone in that, he will be missed by everyone here.
But, have a good one Kark, it was good getting to know you. Thanks for the memories and don't forget to stay in touch.