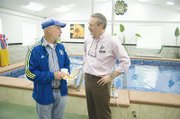 A project which more than doubled the size of Sunnyside Physical Therapy's facility at 841 E. Lincoln Ave. was unveiled to the public yesterday, Thursday.
The expansion extended the physical therapy office to a total of 5,200 square feet.
Owner and physical therapist Dyke Dickie said a catalyst for the addition was installation of the only warm water therapy pool between Yakima and the Tri-Cities.
He said the therapy pool is especially beneficial for rehabilitating use of arms and legs and building endurance in patients as they recover.
Among the pool's features are a water lift and an underwater treadmill.
The expansion also features several new pieces of therapy equipment.
John Booth was the contractor for the project, and he pointed out that although the floor in the new expansion shares the black and white tile pattern of the earlier construction, the new flooring is made with PVC material and is heated.
Booth said the biggest challenge was eliminating condensation in the pool room. "It's built so the windows will never steam over," he said. "That was the challenge."
The new expansion and therapy pool attracted a steady stream of admirers during yesterday's open house.
The pool is only for patient use, Dickie said, but the new and existing therapeutic equipment might someday be available to former patients.
He said the long-term goal is to establish a wellness program for both new and former patients.