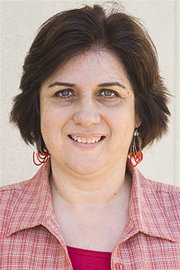 One thing is certain when it comes to Sandra Linde, she's been a long-time advocate of promoting successful endeavors within the classrooms and hallways of Sunnyside schools.
Linde hopes to continue working to help all local students succeed. This week she announced she will campaign for a seat on the Sunnyside School Board.
Specifically, Linde wants to fill the seat being vacated by District 4 Director Steve Carpenter, who's already announced he will not be seeking re-election come this fall.
"I feel that I am in a unique position to serve our families and faculty well as a member of the Sunnyside School Board," Linde said.
"My husband, LaDon, and I have had children attending Sunnyside schools for more than 20 years, and will have children in the district for several more.
"Our older children have enjoyed success in their post-high school pursuits, and I hope to help as many students as possible enjoy that same success."
Linde's involvement with the Sunnyside schools has taken many forms. She has served on numerous committees, ranging from ethics to policy development to selection of principals. Linde has also provided support for the school district's library system.
In announcing her candidacy for the school board, Linde said she pledges continued effort towards improving literacy and increasing student access to books.
Linde's more direct involvement with students has included substitute teaching and helping teen parents graduate.
"My experience has given me the perspective of parents, teachers and students. They all have a key role to play in a successful educational experience, which I believe means that students will graduate from our schools ready to join the workforce and contribute to their community," Linde said.
Bobbi Quigley, who has taught in Sunnyside schools for 50-plus years and is retiring this coming June, is Linde's honorary campaign chair.
Said Quigley, "I have known Sandra Linde and her family for over 20 years. I have seen her dedication and contributions to our schools. I'm excited to support her campaign."
Linde has been a regular attendee of Sunnyside School Board meetings for several years, and is very familiar with the proceedings there.
"Schools and education have been a passion of mine for a long time," she said.
"I hope the voters will give me the opportunity to help make our schools the best they can be."