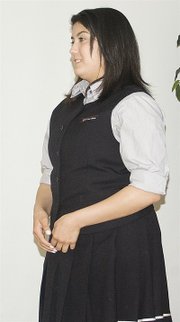 Sara Contreras of Prosser experienced the March earthquake in Japan firsthand.
She was there as a Rotary exchange student, actually studying for high school classes there when the earthquake hit.
Contreras was living in a coastal area in northeast Japan at the time and she recalled how a large boat ended up on a roadway in town because of the catastrophe.
She and her family and fellow students were unharmed, but she recalled how the gym they huddled in had lights and beams rattling overhead.
When she finally returned to her host family she said there were fears their house would not hold up because of earthquake damage. She said her family alternately stayed indoors then ran outside in the snow when they thought the house might collapse.
Contreras said Japan's government downplayed the situation. She said the only word her host family received was that an earthquake had happened.
But the full effect of the earthquake and even the fact a tsunami happened were not fully shared with the public until several days later.
"Most of the Japanese media wouldn't talk about it," she said.
By the time the government got the word out, she and her host family had already consumed milk and vegetables that were later found to be tainted with radiation.
Contreras talked about how the public was angry with the government for the slow reaction.
Contreras also talked about the school system in Japan, which includes 12-hour days in the classroom with heavy homework loads.
She says it's common for students to get little sleep. She said parents of private school students often won't speak to their children for years if they are unable to pass college entrance exams.
Contreras said her time in Japan was cut short because officials sent her back to the States early. She said it was due to what they considered an over-reaction by this country in the aftermath of the damage and radiation exposure in Japan.