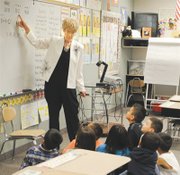 A lot has changed since Bobbi Quigley joined the Sunnyside School District. From technological advances to new teaching methods, the long-time first grade teacher has moved along with the times and managed to maintain her devotion to education, her students and the school district through it all.
Quigley was born in Wenatchee, and lived in Spokane and Yakima before attending Yakima's junior college. She says she didn't know exactly what she wanted to do in those days, but that she wanted to work with animals.
A chance to observe an elementary school class changed all that. She attended Central's College of Education in Ellensburg and finished the two-year course in five quarters. When she was certified to teach, the school year was already in full swing.
But those were the days when superintendents actively pursued new teachers, Quigley said.
"I could have gone anywhere."
It just so happened that there was an opening at Washington Elementary School in Sunnyside for a first grade teacher to begin in January, an unusual time for a teacher to begin.
Quigley's husband was in the military at the time and her parents already lived in Sunnyside, so it seemed as good a place as any to settle down for the time being.
But what could have been a few years at Washington Elementary quickly turned into 10 years.
"I fell in love with the school, the people I was working for and the kids," Quigley said.
After her husband Keith left the military he got a job in Sunnyside and the couple decided to stay in the area for another year or two before deciding on where to go.
But they never left. After 10 years at Washington Elementary, Quigley moved to Outlook Elementary School and has been there ever since.
The community, the school and the children captivated Quigley.
In turn, Quigley has remained a loyal and dedicated teacher, ready to show students that dreams are achieveable.
"Kids who go through our systems, if they put forth the effort, there isn't anything they can't do," Quigley said. "I can't talk enough about effort."
But effort comes from more than just the kids, she explained.
"It has been my privilege to work with state of the art teachers."
That camaraderie with the teachers and the staff has been one element of teaching in the Sunnyside School District that has anchored Quigley to the district for so long.
"I am still overwhelmed about how all these people over the years have been so supportive of me."
It was a bitter-sweet decision for Quigley to finally decide to retire. She was once told by a fellow teacher that she would just know when the time was right to retire, but Quigley says that is simply not true for her.
"In my heart, I honestly, truly wish I had another 54 years to give. I don't have that kind of time, so I decided I wanted to end on a high note."
Quigley's only son, Michael, lives in California with her two granddaughters. The decision to retire will mean she gets more time to travel south to visit them.
But Quigley has no plans of moving to California to join them.
"Sunnyside is an awesome place for me to live," she said. "This is my town. This is my home."
Despite her retirement, Quigley remains devoted to the legacy of her teaching and her personal philosophy on education.
"I believe in public education," she explained. "For a lot of us, most of us, it's our one chance for upward mobility...the strength of this country depends on educated people and that's what I want to give my kids."