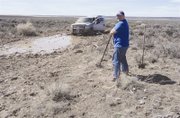 Of all the gemstones found in the Northwest, the Oregon sunstone is probably the most rewarding gem to look for.
The reason is twofold. First, it's actually possible to find them, secondly, they can be larger than a pea, and if there is a third reason it's because they can actually have some value. All of that put together makes a trip to Plush, Ore. worth the drive.
I've been all over the western United States looking for gems and I've met a lot of interesting characters.
Yes, it's possible to find sapphires in Montana, and there are garnets to be found in Idaho. I've been to California looking for tourmaline, and in Arizona there is a bounty of gem varieties seemingly lying all over the place.
But I've really developed a passion for sunstones. I suppose one reason is that they are native to the Northwest and I'm partial to that notion.
Aside from that, I just like the way they look. They come in all sorts of colors, there's the common champagne variety, reds, blue/green, and every one of them is truly unique. I especially like the ones that have copper streaks (known as schiller).
I recently took a drive down to the public sunstone area set aside by the Bureau of Land Management (BLM) just outside of Plush. My wife Kathy and a couple of friends (Pete and John) came along with me, and oh yeah, don't forget about my wonder dog "Butter" who slept on the floorboard of the truck the entire ride down there and back.
Plush is about a seven-and-a-half hour drive (not counting stops) from the Tri-Cities. I suppose it can be longer if more frequent stops are made but I left really early in the morning, about 5 a.m. so that I could arrive about 1:30 p.m. later that afternoon.
I took Highway 395, which to me was a wonderful route and certainly the more scenic one. I especially like to see wildlife on my trips and there was no shortage of elk and antelope along the way.
From the moment we turned onto Highway 395 at Pendleton, Ore., I felt like the world had opened up.
I soon realized that Montana isn't the only place with Big Sky. Oregon also has its fair share of clean air and open spaces. I especially like the Blue Mountains because they remind me so much of the stories I've read of early settlers cutting their way westward. The images bring out the pioneering spirit in me. Whenever I go to the Blues I can't help but think of the settlers cutting across the landscape in their Conestoga wagons.
It's always a mystery in my mind how they were able to carry those heavy loads over such rugged terrain and endure the hardship that followed wherever they turned.
Of course now days the Conestoga has been replaced by the motor home and cruise control. Thank God for modern luxuries. I don't have a motor home myself but I certainly can admire the thought of traveling around the country as a free spirit.
If the Blue Mountains and winding roads aren't for you then the alternate route is to go down Highway 97 cutting through central Oregon.
I love either route. Highway 97 is a little more traveled so if breaking down in the car worries you that may be the better option because there seemed to be a few more cars going that direction.
My dog Butter didn't seem to mind the winding mountain roads at all, that is, until we took a corner just a little too fast and she would slide along the floorboard a few inches. Even that sort of movement didn't seem to wake her up completely. I never heard a dog snore as loud as she does. I suggested to my wife we call her Adenoid instead of Butter but I suppose Butter fits a little better.
April is a great time of year to visit the sunstone area. The air temperature was just perfect for the labor we put into digging for the gems.
It was a mild 65 degrees in the day feeling like it got close to 70. The sun was out the first day and if it wasn't for one really big mud puddle that managed to trap us, the day would have been perfect.
I really couldn't believe our luck. The sunstone area is in the middle of about 20 square miles of nowhere and we managed to find the one and only mud puddle in the entire valley. The worst part was that we had to get the winch out to get the truck moving. Luckily we had a winch.
The sunstone area is owned by the Bureau of Land Management. It's comprised of miles and miles of ancient lake bed. The lake covered what was once an even older lava flow. As the lake dried up, mineral deposits formed inside the lava and produced the beautiful sunstones we enjoy today.
The road leading down to the sunstone area from Highway 395 is called Hogback Road. It travels in a southeast direction for about 20-plus miles and one should just keep going till you see the signs to the sunstone area.
Please remember to stay on the well maintained dirt roads and don't be tempted to turn off on the lesser roads that seem like a shortcut. From Hogback Road it is possible to see some of the commercial mining operations in the far distance.
They are the only structures that can be seen for miles and miles. We took the chance of taking a more direct route and ended up in a cow pasture which ultimately got us stuck in the mud.
If the weather is predicted for rain, make sure you have a very good truck with four-wheel drive (we had a four-wheel drive, there was no rain, and we still got stuck).
Once we got to the sunstone area we stayed in the developed public camping spot. It was very nicely maintained and there are about three covered campsites with picnic tables. The area can accommodate probably 20 or 25 campers but the BLM brochure says that camping anywhere in the four-square mile public area is allowed so I wouldn't worry about finding the right spot.
Also, I talked to a caretaker at one of the commercial mines (Dave) and he said we could camp at his mine if we wanted, for free.
The commercial mines allow the public to visit and dig their own stones basically free of charge. We visited the Dust Devil Mine and found them to be very accommodating and friendly.
We dug in their pit for a few hours and found some nice stones which were all champagne color (the common variety). When we were all done for the day, Dave looked at what we found and told us there was no charge.
I thought that was a pretty good deal. I was told that had I found anything of higher value I would pay only a fraction of the wholesale price on a per carat basis. It seemed like there was plenty of opportunity to find something nice and I was certainly happy with what we found.
The evening did get cold and in the early morning around 4 a.m. it snowed about one inch.
The wind also picked up and the wind chill was definitely biting. Needless to say Butter didn't mind at all. I let her off the leash and she probably ran in circles around the whole area for hours.
Since the weather was kind of bad we decided to drive into the town of Plush and check it out. It was about a 35-minute drive and the road went through some very beautiful country.
When we got into town we found that it was a population of roughly 70 people not counting the three dogs we saw running around.
There was a very rustic little store there and we got ourselves a drink, had a brief chat with the proprietor and then headed back out to the sunstone area. The weather cleared up around 8 a.m. It was nice from then on.
All in all it was a great trip. I would highly recommend it to anyone thinking about doing a little treasure hunting themselves. The people were friendly and the rewards were excellent.
We came home with some very nice rough gemstones. I will caution you that it gets hot there in the summer, so take extra food and water.
If you are interested in more information you can contact the Bureau of Land Management in Portland, or type in the keywords "Oregon Sunstones" on the internet and several articles and websites will come up with lots of information.
Feel free to visit my website and ask me questions about the trip and I'll be happy to offer you any advice I can. Also, send me a photo of your trip.
You can contact me at www.pappgems.com.
During the next week I faceted one stone for each of my friends Pete and John and they presented them to their wives as necklaces. They came out very nice.
I was able to cut each of them into a beautiful emerald cut that showed off the copper schiller in a remarkable display of reflective light. I'm going to start faceting my three stones next. I can't wait to see how they turn out!
- Ivan Papp is the co-owner of www.pappgems.com
More like this story