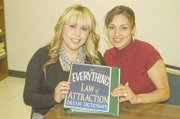 Looking to unlock your potential? Want more out of life? Then the Mastermind Group might just be for you.
Cesy Ambrocio and Erica Silva are forming a chapter of Mastermind Group here in Sunnyside. The group will meet every Tuesday, at 6 p.m., at the Sunnyside Community Center.
Already there is a group ran by Silva in Richland that has eight members.
"We sit around and talk about goal setting," Silva said. "We do dream building."
Ambrocio and Silva explained that dream building is putting together what a person wants.
"Whether it's losing weight, wanting to travel to places," Silva said. "It's anything to do with success."
That includes buying a new home or a new car.
The group also works on goal setting. They try to start out with small goals that are big enough to achieve. They start out slowly, with no time limit attached to success.
Ambrocio and Silva use a 14-disc CD program called Your Wish is your Command. It teaches members of Mastermind Group how to manifest their dreams and desires.
"We focus on what we want and not what we don't want," Silva said.
Another tool used to help group members achieve their goals is the Law of Attraction.
Silva said the brain is a transmitter and a receiver. The energy it creates allows group members to get what they want.
"We want to create a positive like minded atmosphere here," Silva added.
The first meeting in Sunnyside is Tuesday, May 31. All attendees will receive a free gift. There is no charge to join the group.
Both Silva and Ambrocio believe Sunnyside needs something positive and are hoping by exposing the city to these techniques, it will help.
To find out more about Mastermind Group call Ambrocio at 830-9296 or Silva at 509-392-9403.