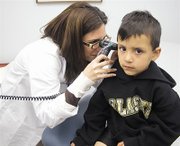 A native of Puerto Rico, Dr. Ana Garcia joined the medical practice at Sunnyside Pediatrics two months ago.
After completing her residency in San Juan, Puerto Rico, Garcia said she had a total of 11 interviews with clinics around the country.
She said Sunnyside was the best fit for her.
"We like the area, the relaxed life of a small town," Garcia said. She says it's a welcome change after living in San Juan with its population of about 1 million people.
She says it was her third year of medical training when she chose pediatrics as her career.
"I enjoyed being with the children and they were comfortable around me," Garcia smiled. "I want them to be happy and healthy."
At Sunnyside Pediatrics, Garcia sees patients up to 18 years of age.
She says the biggest trends she's seeing in her patients are allergies, bronchitis and other respiratory issues. That's understandable, Garcia adds, given the tendency toward allergies in the Lower Valley during the spring season.
It's a far different climate than the one she experienced in Puerto Rico.
"The weather there was very different," Garcia said. "It was very humid and hot, tropical."
She says she enjoys the dry climate here. During her free time, Garcia said she, her husband and her stepson "love getting into the car to drive around and see nature."
Garcia adds, "We love movies and staying home as a family on Sunday afternoons."
Besides her medical training, Garcia acquired something else from her years in Puerto Rico - fluency in the Spanish language.
Her bi-lingual background is making a difference with Sunnyside's Hispanic and Latino community.
"I just want to make sure mothers and fathers feel very comfortable speaking in their own language," Garcia says.