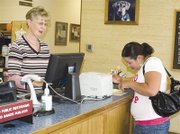 After 32 years of working at city hall in Sunnyside, Brenda Anderson is finally retiring.
Anderson, who moved to Wapato when she was 5-years-old, started working at city hall on June 4, 1979. Other notable happenings on that day included Joe Clark becoming the 16th and youngest Prime Minister of Canada and flight lieutenant Jerry Rawlings taking power in Ghana after a military coup.
But in Sunnyside, Anderson was just beginning a career that would span 32 years.
She had been working in Toppenish at Central Valley Bank. She then moved to Sunnyside with her husband and began working at Old National Bank. That's when a position at city hall in Sunnyside opened up. The position called for half-time help in utility billing and half-time help in accounts payable. She got the job and two years later took over the accounts payable position.
Since then she's paid all the city's bills.
"I liked it," she said. "It's the same thing every month, but it's different. It's busy, I never have any lax time."
That's made the time fly.
Anderson said she's liked all the people she's worked with, and there have been a lot of them. The number of city managers she's worked with is too many to count on one hand. She misses many and plans on missing many more.
But one thing she won't miss? Answering phones.
Thursday, June 2, will be Anderson's last day. She's a little sad about that, but is now ready to spend time with her husband, Wallace, whom she calls wonderful.
They both want to travel. Vietnam and Cambodia are high on the list, as is China, Korea and other Asian countries. She also wants to travel across the U.S. She has a daughter in Ohio and would like to visit her. Anderson's other children live in Washington.
She's going to miss the women she works with at city hall and she knows her last day will be sad, but not the hardest.
"The first day after I retire will be the hardest," she said. "But if I know my husband, he'll probably have some hole for me to dig or tree to cut down."