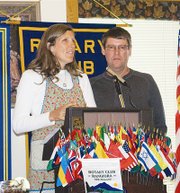 Bill and Julie Michener always knew they wanted to be farmers.
And with Bill's Berry Farm, they've not only made that dream come true for themselves, they've also introduced many other people to farming with festivals and u-pick events.
Bill, Julie, Larelle and Brian Michener of Bill's Berry Farm gave a presentation on their Grandview area farm and how it evolved into one of the leading agritourism spots in the Valley at Monday's Noon Rotary Club meeting.
Julie and Bill alternated speaking as they talked about growing in up farming families and how they started farming to help out a family friend. The land that is the core of Bill's Berry Farm was 28 acres planted with apples 50 years ago.
Even trees grow old, however. Not much is left of the original stand, but by adding a number of different varieties to the land the family created a u-pick paradise.
In 2009 they added blueberries to the mix, and Bill's Berry Farm was born. That summer they held u-pick for the various berries and cherries on farm and in the fall they held their first apple festival.
People loved it, and word spread through careful advertising and word-of-mouth. Julie Michener explained that birthday parties and school events were very good advertising. Each one would introduce another 10 families to the farm.
The next July they held their first blueberry festival, and more than 1,200 people showed up.
Now the farm covers 70 acres and has more parking, a very popular donut fryer and a petting zoo. But despite the changes, the emphasis of the farm is still on wholesome family fun.
"We run a farm, not an amusement park," said Bill Michener.
The family doesn't charge admission and the farm is never open on Sundays. Julie Michener explained they run the farm on Christian principles. "The farm is all about family," she said.
Larelle Michener also spoke a little about the value of social media. She is in charge of the family's website and added a Facebook page recently. "The feedback we get from the Facebook page is amazing," said Bill Michener. "We see pictures and hear about how people are discussing us."
The family will be adding more crops in 2013, to increase the variety of u-pick. "Instead of three varieties of apples on 40 acres, it's better to have 40 varieties on three acres," he said.
They are also considering adding kitchens to make value-added products like jams and field-to-fork dinners.
This year the farm will have Christmas trees brought in from Rochester, Wa. In answer to a question, they said they had considered growing trees but the climate here isn't suited for it.
Instead, they have partnered with a farmer in Western Washington and will have Noble Fir and Grand Fir for sale starting the Friday after Thankgiving.
Along with Christmas trees they will have their usual family fun with hay rides, hot cider and donuts.
"We are selling the experience, not just the produce," said Bill Michener.
Bill's Berry Farm will have Christmas trees and wreaths on sale Nov. 25-26, Dec. 2-3 and 9-10, from 10 a.m. to 8 p.m. each day.
For more information on the farm visit their website at billsberryfarm.com.