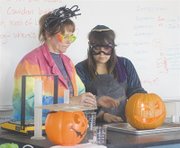 "This is as hard as dingo bones!" said Cash Hodge as he stirred a mixture in his plastic bowl, while three feet away James Schenck poured an oozing spoonful of "flesh" he just made onto his hand then crushed it to powder between his fingers.
The "flesh" was a colored mixture of corn starch and water that the participants in last Saturday's Halloween Science Camp learned to make. It can be used to make fake scars for costumes and also has some other interesting properties. For a first experiment, it was nicely messy but also safe.
Not as safe was the green lantern, which involved several chemicals mixed into a foil-lined jack-o-lantern. Sunnyside High School student Juan Rodriguez lit the concoction, which flared up into a bright green flame.
The campers were impressed with the glowing green jack-o-lantern, right up until teacher Joyce Stark asked them how to put out the flame, which was burning the edges of the pumpkin and starting to cause a bit of smoke.
Listening to the camper's suggestions, Stark explained that blowing on fire doesn't put out flames bigger than a candle. When a child suggested water, Stark said that water doesn't always put out chemical fires, but can spread the fire around. When a camper suggested putting the lid on the jack-o-lantern, Stark promptly obeyed, and the fire slowly died.
Education by interaction was the key to the camp, and to three others Stark has hosted with the help of high school students and fellow teachers.
The first Halloween Science Camp was held last year, and introduced young children to science while giving high school age children a chance to teach.
Since that success, more science camps have been hosted by Stark and her students. A science camp in January had a Harry Potter theme while one in April introduced children to the Magic of Science.
Some children have attended more than one camp, but most camps get a new crop of students.
The camps are all about teaching children how much fun science can be, while also emphasizing safety. All participants were issued lab glasses, making the room look like a convention of young mad scientists.
Some experiments were hands on, while others simply required attention. After Stark dropped a tissue full of a chemical into a bottle of liquid, creating an impressive spout of smoke, the campers clamored for her to do it again.
"Maybe after lunch," she said. "We need another bottle."