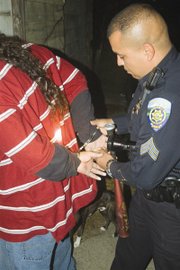 MABTON - Thankless jobs are what keeps local residents safe and the town clean.
Passion for the job and to ensure residents' quality of life is what drives Mabton Police Sergeant Casimiro (Cas) M. Cedillo to work each day.
From a young age Cedillo says he knew what he wanted to do. The school resource officer from Cedillo's middle school was a man to look up to. And ultimately his encounters with the officer sparked Cedillo's interest for a career in law enforcement.
"I've kind of always known that I wanted to (work in law enforcement) one day," he said.
A life of public service was the way to go for Cedillo. It's not about the pay or the gratitude; it's about helping people, he said.
Cedillo, originally from Portland, Ore., came to Washington state moving to the Tri-Cities area in 1997.
In 2003, he got his foot in the door for a career in law enforcement by serving as a detention officer for both Yakima and Benton/Franklin counties juvenile division. In 2005, he was hired on as a police officer for the city of Granger.
Shortly after he quit his job in Granger, he was hired on as a sergeant for the city of Mabton's police department.
Cedillo says Mabton is a small town with, sometimes, big-city crimes.
"We have our moments," he said.
Primarily working alone, Cedillo says he must stay alert and proactive. The mantra Mabton officers hold to is to be "...proactive, not reactive," he said.
As the sergeant and only other full-time officer, Cedillo's work load isn't a burden he bears but a joy he shares with the staff of six at the Mabton Police Department.
He says the advantage to a small department is that the responding officer sees the incident through to the end.
"You're there when it happened and you're there until the end," Cedillo said. "You get to know the people better."
Whether it's shaking a hand, helping an elderly resident across the street or taking down big-time criminals, Cedillo says all facets of his job are equally important to him.