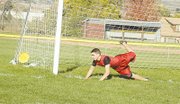 GRANDVIEW - There was a strong start towards getting Ultimate Frisbee started in Grandview, as this past Saturday an event at the GHS soccer field attracted about 50 participants.
Jose Razo was one of the event organizers, and he said the aim is to get a program going in the Lower Valley.
He explained that it is a non-contact sport and great outdoor exercise requiring teams of five or seven players to move the Frisbee forward to their opponent's base.
When catching a Frisbee from a teammate, there is just 10 seconds to pass it forward to another teammate or forfeit it back to the opposing team.
Likewise, dropping a Frisbee pass means it goes over to the other team.
Razo, along with co-organizer Aric North, staked out a 50x70 area on the GHS soccer field, complete with orange cones to set up the playing field this past Saturday.
Razo just started playing the sport three months ago, and he says he enjoys the competition, not to mention "getting out, throwing and catching" a Frisbee.
Above all, Razo and North note, is their hope that the sport of Ultimate Frisbee can "be utilized to create community interaction within the Lower Valley."
Razo says there are plans for another Ultimate Frisbee competition in the Lower Valley sometime in the next six weeks or so.
For more information and updates on Ultimate Frisbee in the Lower Valley visit facebook.com/airidultimate.