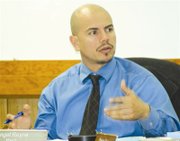 MABTON - The Mabton City Council budgeting sessions are in full swing as the council is setting goals to consider when looking at next year's budget.
Mayor Angel Reyna at last night's (Tuesday) budget session said he hopes the city will budget for a website.
"It's important to increase our communication to the community," he said.
The council spent the majority of the meeting indentifying obtainable goals they'd like to see come to fruition in the next year.
Reyna said he also hopes the website will offer video feed to recap meetings and include text of meeting minutes, ordinances and downloadable forms for the residents' convenience.
Councilwoman Vera Zavala said she hopes to budget and plan for more community visibility.
In addition, council members agreed to increase communication by budgeting for a community reader board.
"I would like to get to know my community again, I want us to make an effort to meet the people," Zavala said.
Zavala says more community visibility will build trust with the community members. She also said she wants to add to the aesthetic beauty of the downtown intersection with cobblestone and more lighting.
All council members agree 24-hour emergency service is Mabton's dire need.
More suggestions for budget planning include a $7,500 donation to the skate park; to budget more upkeep on water meters; to paint the old water tower with the city's logo; and add the city's logo to city hall.
Councilman Mario Martinez also suggested irrigation at Governor's Park and moving to three full time employees in city hall. He also wants to see gazebos in the parks and for the council to begin developing a water facilities budget.
In addition, the council would like to see a public works director that will also have water certifications.
In order to give the council an idea of what they might have to work with in 2012 for budgeting, Martinez told the council the city's current revenue totals are expected to be between $1.3 and $1.6 million, and nearly 70 percent goes to salaries, benefits and dedicated costs. Currently the city is spending nearly $150,000 less than total revenues this year, according to Martinez. The city's capital investment fund also sits with about a $100,000 balance.
"When I started at the council we had $900,000," he said, "We've been growing every year."
Budget sessions are set for each Tuesday opposite of the city council meetings until mid-December from 6 to 8 p.m. in the council chambers.