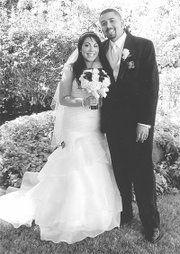 On Aug. 13, 2011, Karen Marie Valencia and Alvaro Jesus Sanchez were married at St. Paul Cathedral in Yakima.
Both are graduates of Sunnyside High School and Yakima Valley Community College.
The bride is currently attending Washington State University to earn a nursing degree, and the groom is a pharmacy technician at Tieton Village Drugs.
For the nuptial ceremony the bride wore an ivory beaded organza gown with a single strap. It was a Mori Lee design by Madeline Gardner. Her flowers included ivory roses, hot pink calla lilies and eggplant calla lilies. The floral design was completed by Melias Floral.
Serving as the bride's maid of honor was Jasmine Jazel Valencia of Grandview. Attendants included Haley Torres of Kennewick, Breanna Purdy of Sunnyside, Shania Valencia of Grandview and Alisa Sanchez of Seattle.
The flower girls for the August ceremony were Neveah Ashley of Yakima and Liliana Torres of Kennewick, and the ringbearer was Andre Martin of Seattle.
The groom's best man was Juan Salinas Jr. of Sunnyside. Serving as ushers were Ismael Torres of Kennewick, Jose Salinas of Kennewick, Robert Estrada of Seattle and Javier Valencia of Grandview.
The bride is the daughter of Javier Valencia and Brenda Valencia, both of Sunnyside, and the groom is the son of Orimio and Eliticia Sanchez of Sunnyside.
A reception at the Capitol Theatre in Yakima followed the ceremony, and the couple honeymooned in Las Vegas.
Each member of the wedding party donned a special memorial button in honor of Alvino Sanchez, the brother of the groom.
The couple is making their home in Yakima.