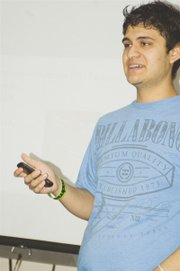 Two years ago, three Sunnyside High School students set a plan in motion to give SHS its first ever robotics team.
The morning (Wednesday) the team spoke at the Daybreak Rotary Club meeting. Eugenio Rivera, Edgar Perez and Daniel Martinez, all seniors at SHS, decided to start the program as sophomores at the school.
"At first we weren't taken too seriously," said Rivera.
But after crawling, the three founding students and now nearly 20 members of the group and their SHS teacher and mentor, Carl Walthers, feel as though they can finally walk.
Perez said it was a hard road but now feels as though the team is in full swing.
The group focuses on engineering, robotics and science. The goals for this year are to promote science, technology and engineering; to gain more community support; and to give back to the community.
"We want to start a program where we teach younger kids about what we do," Rivera said.
Rivera hopes giving back to younger students will decrease drop-out rates.
"I'm a strong believer that when students drop out (of school) it begins at a young age," he said. "But if we can get them interested and excited about school now, they might end up finishing (and going far in life)."
As plans are moving along, they've come up with a name: RAV3. The acronym stands for "Robotics Against Violence and the 3 rules of Robotics."
The team hopes their name will say it all.
"Sunnyside doesn't have the best reputation," Perez said. "We want people to know we aren't all violent people, but we want to do (well in life)."
The students are preparing for the season of competitions which will begin this coming January.
"We'll get a kit to start working with and have just six weeks to finish the robot," Rivera said.
But with every project comes an expense. To enter competitions, cover travel costs and extra materials the team needs to come up with nearly $8,000 this year.
"We are trying to sell 'robot' cookies and maybe bracelets," Rivera said.
The team is hopeful to raise the money before the project consumes their free time, starting in January. This year they hope to go to competitions in Spokane, Seattle and Cheney.
In addition, the group hopes to find a permanent home for the team to work on their projects without disruption.
"It would be nice to have a shop with all the tools we need," Perez said. "Last year I had to bring some tools from home to finish the project; it can be frustrating at times."
The three agree, though the project has been tough, the experience was worth the while.
"It's helped us with school, but also in life," Rivera said. "We have learned that even though things are hard, we can still do it."
The three high school seniors hope what they have started will live on.
"I have a younger brother and I hope when he gets to high school next year, the club will still be going," Perez said.
Rivera agrees, "After we go off to college we want to see this program still going, we don't want to see it fade away."
But with school funding decreasing, the group is looking to the community for support.
"Hopefully we can find enough support to finish out the year," he said.
For more information on how to donate to the team contact the Sunnyside High School ASB office at (509) 836-3228, or Carl Walthers at (509) 840-3008.