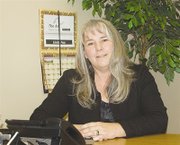 You may not have heard of the Arc of Yakima, but it has been around a long time, fighting for the rights of people with developmental disabilities since 1953.
Name recognition is one of the many reasons the Arc of Yakima County has set up an office in Sunnyside.
For two days a week, usually Monday and Wednesday, Linda Fox is at the Sunnyside Arc office, located inside the offices of EnTrust Community Services, an organization that helps foster the integration of people with disabilities into society. Although the two organizations share similar goals and office space, the Arc is more about policy and advocacy.
"The focus of the Arc of Yakima is to raise awareness about issues surrounding people with disabilities," said Fox.
She educates parents of disabled children on what services are available and also teaches those parents how to advocate for their child at the local and state levels. That includes talking with state legislators and getting laws changed.
"We provide advocacy training and teach parents how to approach legislators effectively," said Fox. "Sometimes the issues involved can be very emotional. We teach people how to present their questions and concerns."
The Arc of Washington has been working on issues involving the disabled since 1936. Because of their efforts the state was first in the nation to champion special education laws.
In the last few years, however, a lot of ground has been lost due to budget cuts to human services statewide. The latest round of budget cut proposals greatly concern the Arc and the people it serves.
Fox pointed out that about a quarter of the governor's proposed cuts are to human services. As a result, the Arc has been gathering stories from people with disabilities. The organization wants to hear how cuts have impacted people or how the next cuts may impact them.
"We plan on presenting the information we get to the legislature," she said. The Arc will try to help the legislature formulate ways that would lessen the impact of the cuts.
In the meantime, the Arc is here to help people in the Lower Valley.
"In a nutshell, the Arc of Yakima County wants to create a county-wide awareness of the issues of the intellectually and developmentally disabled and expand the parent coalition, allowing parents to have a voice and be empowered," said Fox.
For more information or to volunteer, call the Arc of Yakima County at the EnTrust Community Services office at 509-837-9431, call the Yakima office at 509-453-4753, ext 228 or email arcofyakimacounty@gmail.com.
For information about the Arc of Washington visit arcwa.org.