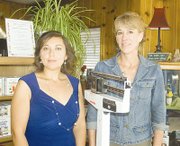 Maria Magana had tried several diet plans and weight loss schemes, but the Grandview woman finally found success with Diet Center's office in Sunnyside.
She lost more than 80 lbs. in just seven months by sticking to the plan, and her testimonial about the change in her life has earned Magana a trip to Florida this week during a national Diet Center event.
Magana, her mother and Mary Van de Graaf with the Sunnyside Diet Center all left on Wednesday this week and will return tonight, Friday, from the national conference in Florida.
Magana was one of 12 Diet Center customer testimonials selected from among thousands of customers in the national chain. She is selected to be recognized today, Friday, at the national event.
Besides an all-expenses paid trip to Florida, Magana received $3,000 in makeover and shopping sprees from Diet Center.
Van de Graaf praised Magana's commitment to the program in losing on average just over 2 lbs. per week.
"She followed the diet strictly and came in two or three times every week," Van de Graaf said. She noted Magana and other clients come into the Diet Center office during the week not only to measure weight loss and for accountability, but also for reviewing weekly food journals.
The result for Magana was a loss of 89 lbs. and 107 inches. She dropped from a size 22 to a size 8.
Not surprisingly, Magana is a strong advocate for Diet Center.
"I tried other diets but they never worked for me," she says. "I had the full support of Mary and the Diet Center staff. There's a plan for you and you just have to stick with it."
Sticking with a plan - perseverance - was an element in Magana's prize-winning testimonial about Diet Center. She wrote in the testimonial that her weight loss has been an example to her children that they can succeed at anything if they work hard and persevere.
Magana notes the weight loss has given her more confidence in social situations. Knee pain she had in the past is now gone 80-plus lbs. later.
During her time in Florida this week, Magana hopes to enjoy another benefit of her weight loss.
"We have a tight schedule but I hope to go to the beach," she smiled.