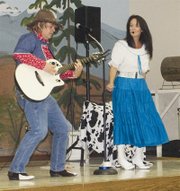 GRANDVIEW - The fourth annual Yakima Valley Fair and Rodeo Foundation dinner last night (Thursday) was marked by great entertainment, honors to a deserving family and fundraising.
The dinner serves to raise money for the foundation, which is devoted to improving the Country Park/Yakima Valley Fair and Rodeo grounds in Grandview as well as keeping the Yakima Valley Fair going. The dinner also allows the foundation to honor those who have contributed time and effort to the fair.
Last night the foundation honored the Olmstead family, led by patriarch Don Olmstead Sr., who celebrated his 94th birthday the day before the dinner. Four generations of the Olmstead family were represented at the dinner, and they received a standing ovation from the crowd for their contributions to the Yakima Valley Fair.
Fundraising was also a large part of the celebration, with a silent auction conducted before the dinner and a more standard auction after dessert.
Mike Carpenter and Jacob Van Pelt, dressed as football referees, conducted the auctions and also occasionally fined attendees after tricking them into situations where football calls were appropriate. For instance, one gentleman was asked to hug his wife then called for "holding."
When the auction ran late, the two were called for "overtime" by one of the foundation board members.
The auction items ranged from a very popular old-fashioned child's school desk in the silent auction to a trip for two to Africa on a photo safari.
During the auction, one bidder got up to explain that he was bidding on items to support the fair because the land it now sits on used to be owned by his uncle, and he used to pick asparagus there. His personal tie to the fair inspired him to continue to support it however he could.
Toward the end of the dinner, representatives from J.M. Smucker got up to present a $10,000 donation to the Fair Foundation.
The entertainment for the night was Cowboy Buck and Elizabeth, well known for their educational music presentations at schools around the state. They performed a number of classic songs in medleys, and led the group in a sing-along at the end of the show.
"It had lots of surprises and was one of the best yet!" said foundation board member Martina Charvet. "The Yakima Valley Fair and Rodeo is very lucky to have so much support in the Yakima Valley."