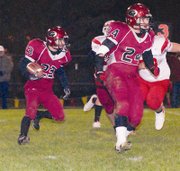 GRANDVIEW - It was a meeting between two longtime CWAC foes in Grandview last night (Thursday), and the state's third-ranked Prosser Mustangs dominated, 54-6.
The Mustangs opened the game with an early 7-0 lead in the first quarter. Isaac Anderson scored the TD on a 1-yard run and teammate Trino Flores made good on the PAT.
The Greyhounds were hungry on the field and didn't want to allow the Mustangs to keep the upper hand.
On the next possession, second down, Grandview quarterback Derek Swearingen threw the ball for a long pass. It sailed through the air into the hands of Anthony Perez for a Greyhound first down.
That provided Grandview with a spirit of determination as the Greyhounds pushed forward against the Mustang defense.
The effort worked and Swearingen connected with Herman Herrera for a 5-yard pass, good for the touchdown.
The point after kick, however, did not make it through the uprights and Prosser maintained a 7-6 lead.
Unfortunately, the Greyhounds for all the fight they felt down in their guts weren't able to score again last night.
Prosser scored again on the next possession, cushioning the lead to 14-6.
Grandview held the Mustangs to just two touchdowns in the second quarter and at the half, Prosser was on top 34-6.
The Mustangs scored two more TDs in the third quarter and one in the final stanza.
It was Herrera and teammate Jose Castilleja who led the Greyhounds in receiving and rushing yards. Herrera caught two passes for 55 yards and Castilleja rushed for 79 yards on 24 carries.
Herrera also rushed for eight yards on a carry, teammate Anthony Perez carried the ball four times for 28 yards, and Swearingen carried the ball a total of 10 yards.
He connected with Erik Sauve twice for 21 yards, Perez once for two yards and Jessie Baca once for an 8-yard loss.
Prosser had 243 rushing yards and 119 receiving.
Grandview finished the 2011 campaign with a 1-8 CWAC league mark, 1-9 overall.