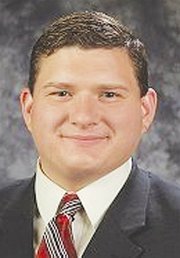 During pre-game activities prior to the Sunnyside Grizzly football team's season finale last night there was a familiar voice encouraging them to persevere in what proved to be a 46-38 loss to West Valley.
It was an audio recording of college football legend Lou Holtz, as performed by 2000 SHS grad David Sleater, a television morning show producer in Cincinnati, Ohio.
"He's trying to get into voice acting and he has a studio in his home," says Sleater's brother, Sean, a 2001 SHS grad, local teacher and head coach for the SHS frosh football team.
The Lou Holtz connection started with David practicing his voice acting craft by doing pre-game speech impersonations of Holtz. He then forwarded them to Grizzly varsity football coaches for review and the rest is history.
"The recordings were supposed to be just for the coaches, but they thought it was so great they wanted the whole team to hear it," says Sean, an assistant coach on defense for the varsity.
The result is that before every game night, Grizzly football coaches huddle with players to hear the latest motivational speech from "Lou" as part of the pre-game tradition.
Prior to a 40-16 thumping of Pasco at homecoming, for example, Sleater as Holtz implored the team in the areas of leadership and believing in each other as a football family.
The two-minute recording also encourages players by name in trusting each other.
"This bond is only going to be as strong as you," Sleater/Holtz concludes.
Sean Sleater says the players are not only eager to hear each week's recording from "Lou," but also take it to heart.
Prior to a tough road game at Eastmont this season, known as a hostile environment for visiting teams, the recording from "Lou" focused on what's important now (WIN).
"The players were saying it during the game," Sleater smiled. "The kids are taking from his speech and applying it to the game."
And that's good news to David Sleater who, though 3,000 miles away from his hometown, still wants to contribute.
"It's great to hear the kids are using it on the sidelines," Sleater said by phone. "I didn't know how they would respond to a recording."
Sleater hasn't shared his Lou Holtz voice beyond the SHS football team.
He laughed and said he was tempted to phone into Dan Patrick's sports radio show to see how long he could pull off the impersonation.
Back here in Sunnyside, Sean Sleater is hoping his brother will continue the Lou Holtz Grizzly recordings next season.
"We need to work on playing four quarters, finishing games next season," Sleater said of a 2011 campaign that saw Sunnyside lose several close games. "We need to hear from Lou on that."