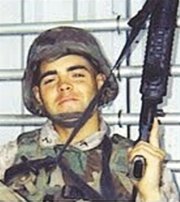 Sunnyside police are putting on a spaghetti feed to help U.S. Marine Richard Hernandez fight his battle against cancer.
Hernandez is a 28-year-old Iraq war veteran who survived two deployments and is soon to be a first time father. He was diagnosed with testicular cancer in September and now faces multiple rounds of chemotherapy and other treatments.
His uncle, Sunnyside Police Sergeant Olie Hernandez, and the rest of the Sunnyside Police Department are raising money to help in the fight.
The spaghetti feed will be held next Friday, Nov. 11, from 4:30 to 7:30 p.m. at the Sunnyside Community Center (1521 S First St). The cost is $5 for adults and $3 for children age six and under.