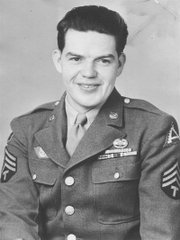 Jay Carman, who just celebrated his 90th birthday, has many stories to tell about his experiences in WWII.
Carman was drafted in September 1942, and recalls getting a G.I. haircut as he entered boot camp. Despite only going to school up to eighth grade, some experience baking and plumbing landed him a position as a cook and baker for the 50th Medical Battalion, instead of a litter-bearer.
He and his battalion went right from basic training to England. He described the journey by ship as rough, with 40 foot waves and nausea-inducing greasy duck for food.
In England his battalion spent 11 months preparing for the invasion of Europe. Carman recalled spending a night in a shelter while planes were shot down. Blimps were floated to keep the enemy from strafing the camp, but he said the spitfires would still come zooming in.
On June 6, 1944, Carman's unit headed to France from Plymouth, England as part of the D-Day invasion. The ship they crossed in was fitted to hold up to 1,800 personnel, but there were 3,000 men on the ship.
"Most of us were a-praying" as they waited for the landing, said Carman. They were due to make the landing on the second day out, but were delayed due to logistics and finally made shore on the fourth day.
On the beach at Normandy they scrambled to set up the kitchen, but the injured kept them busy. They had to go without cooked meals for awhile, living on C rations instead.
His unit stayed on the beach for a week before heading for Cherbourg, France. The trip was arduous, with so much to do that Carman said they didn't have time to be tired.
They passed through many bombed out villages. The villagers were happy to be alive even while they had lost so much.
The 50th Medical Battalion took part in several battles, and by 1945 they had reached Holland. Carman said the country was nice and clean, but the Germans had taken all the tulip bulbs.
In Germany he noticed particularly how hungry the people were. Their camp had three big garbage cans. Soldiers would scrape leftovers into the garbage, but local children would line up with rusty tin cans to get the scraps.
Carman was in the group that liberated the Nordhausen labor camp and witnessed the atrocities.
He left Europe before VE day because of medical issues, but was proud to have been part of the liberation effort.
Carman celebrated his birthday surrounded by friends and family this past Saturday at the Sunnyside Seventh-Day Adventist Church.