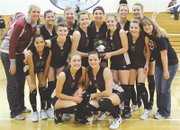 GOLDENDALE - The Sunnyside Christian Lady Knights conquered the Klickitat Vandals twice on Saturday to become District champions.
In the first match, the Lady Knights had a slow start, losing a hard-fought first game 26-24. They came back in the second game to win another tough one 25-21. Sunnyside Christian gained momentum for the final two games and won them 25-19 and 25-13 to take the volleyball match in four games.
The Lady Knights faced off against the Vandals again in the championship match, this time going to five games. Sunnyside Christian won the first game handily 25-10, and had a solid win in the second game 25-17.
But the Vandals didn't want to go home and struggled back in two hard games. The Lady Knights lost the third game 25-22 and the fourth game was an epic battle with the Vandals winning 26-24.
In the final deciding game the Lady Knights took charge and using all their skills beat Klickitat 15-10 to win the championship.
"We played great defense all day," said Sunnyside Christian Coach Stephanie Dalrymple after the game. "We knew we had to play tough defense on the net (blocking) and tough defense in the back row to help us stay in control of the sets. The girls really stepped it up today and played their hearts out."
Alyssa Haak led the team, going 49-for-51 in serves with 33 digs to keep the volley going. Haak also contributed 10 perfect passes and set up the ball for others with 28 assists.
Alexandra Newhouse kept the games going with 32 digs and helped out her teammates with 37 perfect passes.
Stormee Van Belle went 33-for-35 in serving. Van Belle also spiked the ball for 21 kills, blocked 10 times, had 17 digs and 18 perfect passes.
Danika DeGroot set up the ball for her teammates 18 times for assists. DeGroot also contributed to keeping games going with 23 digs.
Maddy Wavrin also had a great serving day, going 30-for-31. Wavrin was all over the court, contributing 16 kills, 58 digs and 26 perfect passes.
Grace den Hoed kept the games going with 22 digs and 23 perfect passes, and also went 19-for-21 serving.
"They have worked very hard to get to State and I'm very proud of all of them," said Dalrymple.
Sunnyside Christian will next go up against Thorp High School in the first round of the WIAA State volleyball tournament on Friday, Nov. 11, at 9:45 a.m. in the SunDome in Yakima on court 3.