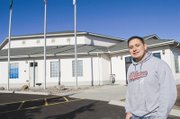 Each year several churches in the Lower Valley participate in Operation Christmas Child, including Sunnyside's Neighborhood Church Assemblies of God.
The annual Christmas project gives children around the world the opportunity to experience the spirit of Christ through generous donations wrapped in a shoe box.
The volunteer effort is a project of Samaritan's Purse of Franklin Graham's ministries, and volunteers are seeking to fill approximately 130 shoe boxes with school supplies, toys, hygiene items and notes of encouragement.
Since 1993 more than 86 million gifts have been delivered to children around the globe, including children of Haiti last year, according to Operation Christmas Child organizers.
National collection week is next Monday, Nov. 14, through Monday, Nov. 21.
Those wishing to donate gifts for Operation Christmas Child can do so at Neighborhood Church between 9 a.m. and noon Monday through Saturday, and 8 a.m. to 2 p.m. Sunday, Nov. 20.
Volunteers at the church ask that the shoe boxes arrive unwrapped with information regarding the age and gender of a child noted for ease of delivery.
Shoe box gifts can be registered for tracking purposes online at samaritanspurse.org/occ. This allows donors to "follow" their box to its destination, where it will be hand-delivered to a needy child.
There are three other locations in the Yakima area that are also collecting boxes, including West Side Baptist Church, Ahtanum Pioneer Church and Inklings Bookshop.
Neighborhood Church in Sunnyside is located at 385 East Allen Road (next to Speck Motors).
For more information, call 837-6255.