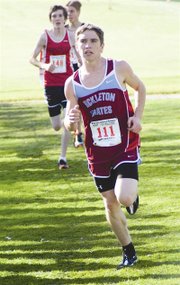 PASCO - The exciting news is that there isn't a single senior on this year's Bickleton High School boys cross-country team. And that bodes well for the Pirates, considering this past Saturday they earned a 12th place finish in the team standings at the WIAA 1B/2B State cross-country meet.
"Well, we knew the competition was great at the State meet, and it did not disappoint," said BHS Coach Darrell Lang.
"We were hoping to finish somewhere near the middle of the team scoring and were 12th out of 16 (teams), so we were close.
"Of course, this really sets the tone for next year to improve our scoring, and that will take every runner improving their times by a minute or so to have a chance to crack the top four," Lang said, explaining only the top four finishing teams at State earn trophies.
Leading the way for the Pirates on the 5,000-meter course at Pasco's Sun Willows Golf Course last Saturday was junior Peter Clinton. He toured the grassy track in a time of 18:02, good for 39th place honors overall from the 140-runner field.
Lang said Clinton has "...been a great team leader all year."
The fastest time turned in at the 1B/2B State meet belonged to Northwest Christian-Lacey senior Lucas Graham. He had a clocking of 16:17. That was seven seconds quicker than the 16:24 time of runner-up Chase Teigen of Asotin, also a senior.
Second across the finish line for Bickleton was eighth grader Troy Roberts. He placed 61st overall in a time of 18:44.
Two other Pirates also posted sub-20 minute times on the 5,000-meter course. Freshman Brandon Berk finished 81st in 19:09, and eighth grader Kane Lowe placed 91st with a clocking of 19:30.
Rounding out the team scoring for the Pirates was junior Joshua Cummings. He was 125th across the finish line in a time of 21:27.
Also competing for Bickleton at State, although their individual finishes were not applied to the team score, were freshman Michael Underwood and junior Christian Mittring. Underwood recorded a time of 22:34, good for 134th place honors; and Mittring finished 140th with a clocking of 37:45.
Team-wise, it was a two-horse race at the 1B/2B State meet. Tri-Cities Prep, behind senior Nick Lumetta's fourth-place individual finish, won the team crown with a meet-low 56 points. Northwest Christian-Lacey was second with 89 team points. Davenport and Republic grabbed the two other team trophies by scoring 144 and 152 points, respectively.
In placing 12th as a team, Bickleton amassed 285 points.
In vying for a team trophy at State next year, Lang said it will not be easy for the Pirates.
"But, this young team has room for improvement. And with some off season running, they could be an elite team come next November," Lang said.
Lang said he received a number of compliments and comments about his youthful team this past Saturday, "...and of course that speaks well to our future if we can keep this momentum and improvement going.
"Really, I can't wait until next year to see how much we can improve and make some noise at the State meet."