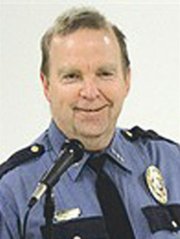 "We are ready to welcome him back," said Sunnyside City Manager Mark Gervasi after learning Sunnyside Police Chief Ed Radder would return to duty this week.
Radder has been on medical leave since this past June. He was suffering from an optical nerve problem that affected his vision.
Last week, doctors cleared him for duty, and he said he is pleased to return to the police department.
That's not to say Radder hasn't been aware of all that has been happening in the community. He has been kept apprised of the police activity and community events his officers and staff have sponsored.
Radder was also kept in the loop regarding the gang elimination plan.
"Due to the individuals employed, things have continued to run smoothly," said Radder.
He and Gervasi are both pleased at how well officers and staff have worked together for the past few months.
"Chief Radder will continue working together with Deputy Chief Phil Schenck to move forward," said Gervasi, stating the aggressive approach to gangs has been a joint effort between the police department, the city manager and the city council.
He said Radder supports the efforts of the gang unit and the officers at the police department, as well.
Radder said, "I have full confidence in my staff and believe Deputy Chief Schenck took on a significant workload in my absence. He handled it all very well."