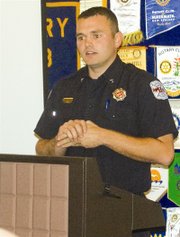 Covering 700 square miles from White Swan to Grandview, Yakima County Fire District 5 is the largest in Washington state, and one of the largest in the nation.
And 90 percent of its force is made up of volunteers.
Andy Babcock of the fire district spoke at Monday's Sunnyside Noon Rotary Club meeting, presenting a number of facts about the fire district and its efforts to reach out to the community.
He laid out information about the fire district to the Rotarians, from the size of the district to recent fires.
The district includes seven municipalities with fire departments within its borders, and the district works with those departments to provide mutual aid, particularly in large fires.
Yakima County Fire District 5 has fought six large fires in the last year... the housing complex blaze in White Swan, the Monastery Complex fire on Satus Pass, the downtown Sunnyside blaze that claimed two restaurants, the Rattlesnake Ridge brush fire, the grass fire in Wishram and the recent Highway 241 range fire.
"The news reports say that 20 homes burned in White Swan," said Babcock. "The media fails to mention how many homes we saved."
He then presented ways the fire district is working to improve.
One area that needs improvement is the number of volunteers. The 16 stations of the fire district are currently manned by 180 volunteers and 20 regular paid staff. They would prefer to have at least 300 volunteers to cover the area.
Babcock said the fire district has been considering ways to make it easier for volunteers to give service to the district. One method is to provide duty weekends that give volunteers a committed time to answer all calls from a station.
Another method the district is researching is having different levels of volunteers. At the moment, to be a volunteer firefighter a person needs to complete 190 hours of training. Once active, a volunteer must go to 75 percent of ongoing training and answer 10 percent of calls.
Different levels of volunteers would allow people to work as support staff, or only as an EMT instead of a fully trained firefighter, requiring less time.
The district is also working to make training more flexible. One improvement is to allow video portions of training to be completed online.
Babcock said the fire district is also targeting the next generation of potential firefighters. They are considering working with local schools to encourage volunteerism. A cadet firefighting program is being researched that would train high school students in firefighting.
Through their efforts, which include more of an online presence and the use of social media to coordinate with volunteers, the fire district hopes to become better equipped in the next few years.