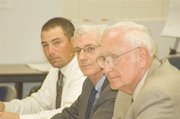 More than 160 jobs lost in Grandview and Sunnyside and an increase in criminal gang activity were the worse case scenarios painted for state lawmakers last night.
The bleak picture was presented during a dinner for local legislators and school district officials hosted by the Sunnyside School District on Monday night.
About 40 school officials from Goldendale to Grandview and points in between showed up for the dinner meeting.
Their biggest concern is with Gov. Chris Gregoire's proposal to eliminate levy equalization as a cost-cutting move. Levy equalization is a state program that directs more money to poorer school districts in areas with low property values.
The idea is to ensure equal education opportunities across the state, regardless of income and property values.
A levy of $1.19 per $1,000 of property valuation in the Bellevue School District, for example, nets about $2,500 per student. A similar levy amount in Sunnyside generates only $251 per student.
Sunnyside schools receive about $6 million each year in levy equalization. Without it, Superintendent Dr. Rick Cole told lawmakers Sunnyside schools would have to let go 92 employees.
That's more than 10 percent of the approximately 825 people the district employs.
Cole asserts the loss of levy equalization would also mean the end of all-day kindergarten, as well as middle school and high school sports staffing.
"It's beginning to feel like we couldn't provide the programs that are needed," he said of further cuts that would be required with the loss of levy equalization.
Kevin Chase is the superintendent of Grandview schools, and he said that district will have to cut 70 employees if levy equalization is dropped.
Grandview schools receive about $3.8 million each year in levy equalization.
Chase conceded that all-day kindergarten will probably be a luxury from this point on for school districts. At the same time, he encouraged legislators to look at other alternatives besides the governor's proposal to cut levy equalization, such as the possibility of a shorter school year.
Other school districts cautioned of unintended social costs associated with losing levy equalization.
Granger school officials claimed last night that they would be forced to put 30 to 35 children in each classroom, hampering student learning.
In addition, Mabton Superintendent Minerva Morales said there will be an increase of children who are unsupervised at home because of the loss of after-school programs if levy equalization is cut. Morales contends lack of supervision and direction would also lead to an increase in gang activity.
The Lower Valley's three state legislators had the final say last night.
Sen. Jim Honeyford reminded the crowd that the levy equalization cut was the governor's proposal. Lawmakers will have opportunities to come up with their own proposals during a special session in Olympia later this month, he said.
Honeyford expressed support for the schools in their drive to retain levy equalization, encouraging officials to reach out to those in other school districts to help expand their lobbying efforts.
Honeyford also suggested that school officials share with Olympia the economic impact in communities due to jobs cut by the proposed loss of levy equalization.
State Rep. Bruce Chandler called for changes in how collective bargaining is handled, noting it has "created insurmountable challenges" in terms of stability and predictability for school budgeting.
As an example, it was noted a cost-cutting proposal to trim the school year by five days would have to be negotiated with union employees in school districts across the state.
State Rep. David Taylor said the governor's proposal to cut levy equalization is part of an "urban versus rural" trend that is happening in state government. "It's not just in education," he added. "It's in health care, social services, everywhere."
If levy equalization cuts do pass the state house and senate, Chandler predicted the issue will simply be handed to the courts.
"I'm certain there will be litigation if it's reduced or eliminated," Chandler said. "That's money and time that could have been spent on direct classroom teaching."