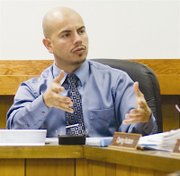 MABTON - During preliminary budget planning the Mabton City Council identified the need for a public works director in the city.
City Attorney Phil Lamb previously stated the city would benefit from hiring a public works director with water certifications.
At Tuesday night's city council meeting, Mayor Angel Reyna offered a solution of equal proportions, in entering an inter-local agreement with three surrounding cities.
The cities of Grandview, Prosser and Sunnyside have agreed to share the wealth of experience, manpower and equipment by sharing the costs associated among the three cities with Mabton. The agreement will provide Mabton with its need for a certified public works director without the massive costs associated.
"We'll be able to send our guys to (the surrounding cities') trainings, and be able to use their (equipment) if need be," he added. "Of course we'll pay for the use, but it's less of a cost this way."
Reyna said if council approves the agreement, the city will not have to front large costs associated with public works equipment and trainings along with certifications.
"We have the opportunity to be trained by people who have been doing this for a long time," Reyna added.
The agreement will be finalized and brought to a city council meeting for adoption in early December, according to Reyna.