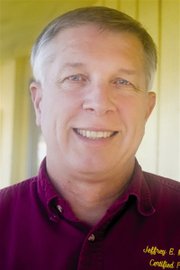 A vocal critic of the Sunnyside Port Commission, Brent Cleghorn, has lost out in his bid to unseat Jeffrey E. Matson.
Election results tabulated yesterday (Tuesday) reveal Matson, a 16-year port commissioner veteran, has handily defeated the former Sunnyside Planning Commission member. Matson's supporters cast 1,084 votes for him, compared to the 478 ballots that had Cleghorn's name designated as their choice.
During a campaign interview in late September, Cleghorn pulled no punches in saying the Port of Sunnyside has not done enough to build the local economy.
"The Port has not been as effective as they could be in that regard," he said. "They have property available, but seem unable to attract new business here."
Matson, an accountant, had a differing opinion when interviewed, noting progress has been made by port officials, "...even in the current down economy statewide and nationwide." He pointed to such new developments as the opening of the Golob Landing business park, the relocation and expansion of Bleyhl's propane storage site near Midvale Road, the arrival of American River Ag just off Midvale Road, as well as a crop dusting business that has been started up at the Sunnyside Airport.
Matson also pointed out the Port of Sunnyside's current priority is to gear up for when the economy does improve.
"We're working to get property ready, making it more attractive, because the economy will turn around. The community that is ready will get the development," Matson said.