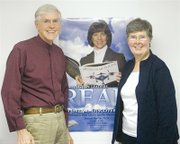 Fred and Ann Mottley Whitney have challenged Sunnyside residents to raise money for the Bonnie Dunbar bronze statue by promising to contribute an extra 10 percent for every dollar donated to the Bronze Committee.
The Whitneys, who were both raised in the Lower Valley, will contribute up to $10,000 to the fund. The Whitneys were on the original bronze committee and helped start the program in Sunnyside.
At a meeting this past Tuesday night, the Bonnie Dunbar Bronze Committee discussed the challenge grant, viewed the landscape design for the first time and discussed the amount of money still needed for the bronze and its installation.
Dunbar was raised on a farm in Outlook, graduated from Sunnyside High School in 1967 and then became an astronaut, spending 50 days in space during five shuttle missions.
Dunbar later became president and CEO of the Seattle Museum of Flight and continues to work in educational outreach, inspiring new generations to reach for the stars.
The bronze statue of Dunbar is being designed by artist Tim Norman and is nearly complete. The design features two figures. A standing figure will depict Dunbar in her astronaut uniform. A sitting figure will depict Dunbar as a child reading while sitting on a bale of hay.
When Dunbar has approved the final design, 24 table models will be cast. The table models are being sold as part of the fundraising effort, and the committee reported that 20 of them have been reserved already.
At Tuesday's meeting, landscape designer James Van Wingerden presented his proposal for the installation of the bronze at its future location on Franklin Street and Fifth Avenue.
Because of the traffic in the area, Van Wingerden proposed a concrete base sculpted to look like bales of hay. The bales would act as support and protection, and also reflect Dunbar's upbringing in Outlook.
The committee was enthusiastic about the design. A fundraising proposal, "Bales for Bonnie," was brought up based on the design, with contributors each sponsoring a hay bale, or a portion of a bale.
The committee has already raised more than $61,000 toward the cost of the bronze, and needs to raise at least $31,000 more to break even.
With the challenge grant issued by the Whitneys the committee hopes to kick fundraising up a notch to get the final funds soon.
Installation and dedication of the bronze is currently planned for March 2012.