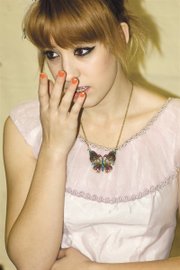 GRANDVIEW - Guests of the Grandview High School fall drama production will laugh 'til they cry with Elwood P. Dowd, an eccentric man and the main character in "Harvey."
Dowd, played by senior Sawyer Schilperoort, has an imaginary friend named Harvey who just so happens to be a six-and-a-half foot tall rabbit.
When Harvey is introduced to guests at a high-class society party, Elwood's sister Veta, played by senior Kateland Hurst, has had enough.
Thinking solely of her daughter Myrtle Mae, played by junior Briana Nettles-Biggs, and the family's reputation, Veta decides to have Elwood committed.
The cast and crew of 17 promise the production to be a laughing good time. Students, including one eighth grade student from Prosser Middle School, have been working on the production since early October.
To see how the story unfolds, stop in on Thursday, Friday or Saturday, Dec. 1-3, at Smith Elementary School in Grandview.
All shows begin at 7 p.m. and admission is $6 for adults and $3 for students.