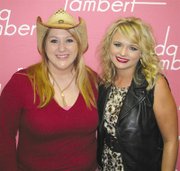 YAKIMA - Sunnyside's Josie Arola and her daughter Samantha recently had the opportunity of a lifetime.
It all happened by chance that the mother-daughter duo met someone willing to give them back stage passes to meet one of their favorite country artists.
Miranda Lambert, female vocalist of the year, was performing at the Yakima Valley SunDome, and the Sunnyside ladies were eager to get tickets.
They joined numerous fans lined up at the SunDome, earning the eighth spot in line.
The younger Arola said she and her mother were willing to wait their turn to purchase tickets, when representatives from two of Yakima's country radio stations arrived to give away "meet & greet passes."
"In the very front of the line was a man named Andy," said the younger Arola.
She said Andy, her eventual meet & greet pass benefactor, knew Lambert personally and had already attended 10 concerts.
"(Andy) and this girl gave a meet & greet pass to a little girl in line," said Arola.
The little one asked permission to stand at the front of the line with her pass in hand, and those ahead of her, including the Arolas, agreed to the idea.
"Jokingly, I said, 'Sure, only if you could hook me up with a pass...she's (Miranda Lambert) my idol," said the younger Arola.
She said Andy turned to her and said he would give one of his passes to her if he won one from the radio stations.
The younger Arola said she laughed his gesture off, believing neither she, her mother or Andy would win a pass.
One of the two radio stations had given away all its meet & greet passes with no winners among the trio. Then, the other radio station began its raffle.
"They would call four people up and they would throw balls at a target. The person to get the most balls stuck would win the passes...well, Andy's name was called," said Arola.
She said she became excited, thinking of the possibilities.
He won and Arola couldn't believe it. And, Andy kept true to his word.
"The experience of meeting her (Lambert) was really quick, but I still really enjoyed it...she really is absolutely gorgeous and sweet," said Arola, whose mother was with her throughout the experience.
She said she had the opportunity to speak with the country star for a little while, hugged her and had a photo opportunity.
"Being able to meet my idol was an amazing experience and nothing can take that night away from me," said Arola.
She also had the opportunity to shake the hand of vocal artist Justin Moore, had her boot autographed and experienced an opportunity she never dreamed she would have.