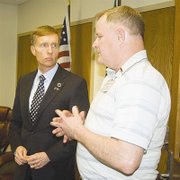 Just two days after the 2011 election was decided Attorney General and 2012 gubernatorial candidate Rob McKenna was in Sunnyside yesterday as part of a whistle stop tour in the Yakima Valley.
Calling it a combination of a campaign stop and work he is doing as attorney general, McKenna's visit Thursday at the Sunnyside Community Center focused on listening to the community.
"When I come to the Yakima Valley I try to pack in as much as I can," McKenna said of yesterday's trip, which included the Sunnyside visit sandwiched in between stops in Yakima.
"We love our community"
McKenna said he came to listen, and Sunnysiders came ready to share what is going right in the community, as well as help that is needed.
"The thing we want you to know is we love our community," Deputy Mayor Nick Paulakis told McKenna. Paulakis described efforts at revitalizing the city's downtown core to attract more business.
Officials from the Sunnyside School District shared progress in graduation rates, from 47 percent just a few years ago to an estimated 70 percent in 2010.
McKenna also heard from Sister Mary Rita Rohde of Nuestra Casa, about that non-profit's efforts at helping migrant parents in learning English and other life skills.
"I love this," McKenna said of Nuestra Casa. "This is exactly the right model in empowering the parents."
A high school-aged student named Felix shared yesterday how a credit retrieval program at the community center is helping him with his education. "I didn't think anything like this could happen in Sunnyside," he said.
As for needs communicated to McKenna, Sunnysiders called for help in areas ranging from preserving funding for all-day kindergarten to more concise legal language related to curfews for minors.
Gang focus
Of particular interest to McKenna is the work of Sunnyside's Promise, which organized the visit here with help from Raul Almeida, a volunteer working for the attorney general.
"I came here to learn about Sunnyside's Promise and its community-based representation," McKenna said. "Alternative ways to reach youth in the community is part of the solution," he said of combating criminal gangs.
McKenna noted that efforts at suppression, such as Sunnyside's gang unit, are helpful but prevention and intervention are necessary parts of the solution to gangs.
Ironically, he said, prevention and intervention programs are often the first to feel the budget ax, noting Tacoma schools did away with middle school sports programs a few years ago.
McKenna said it was a visit to Davis High School in Yakima back in 2005 that illustrated to him just how bad the gang problem is here. "We had some anti-meth bracelets to give to students and we were told no red or blue because of gang colors," he said.
He notes gangs aren't just an issue here, but across the state. That includes western Washington, where McKenna received testimony from teachers about how gang leaders were waiting outside of schools to recruit new members.
"This is inspiring"
McKenna closed his visit here by encouraging Sunnyside to be hopeful in overcoming criminal gangs.
He noted the example of meth and how the state has gone from identifying 1,400 meth labs in 2003 to just 30 last year.
He also pledged support in Olympia to help with the gang issue.
"We're working with Democratic and Republican legislators," McKenna said. "We want to keep this issue in front of the legislature. That's my job as attorney general."
He said Sunnyside is taking positive steps as a community, including the work of Sunnyside's Promise in prevention and intervention.
"This is inspiring," he said of progress in Sunnyside. "It motivates me to work harder."
- John Fannin can be reached at 837-4500 or at jfannin@dailysunnews.com