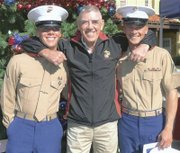 Veterans Day has a special meaning to the Kenny and Joci Nelson family.
The Grandview couple, who operate DK Bain Real Estate in Sunnyside, have not one but two sons serving in the U.S. Marines far from home.
Cody Nelson has been in the Marines since 2005 and currently serves as a marksman instructor on the East Coast as part of security-sensitive work by the Marines there.
Kaelan Nelson has been in the Marines since 2007 and now serves as a flight captain and in quality assurance for C-H53 helicopters in San Diego, Calif.
Both men have served tours of duty in the Middle East as part of the ongoing war on terror.
Dealing with both of her children on duty in the military hasn't been easy, says Joci Nelson, especially when her sons were in the Middle East. "There was lots of prayer," she smiles.
She's also concerned for those still serving in Iraq and Afghanistan, especially with the U.S. looking at troop withdrawals.
"There will still be a certain amount of soldiers over there and those are the ones I'm frightened for because their numbers are going to be lower," Nelson said.
That concern is personal, as Nelson noted her sons may be among those called back to serve in Iraq or Afghanistan.
Though her sons are far away, Nelson says she has a connection to one of her sons, Cody, as his wife and daughter live in Grandview. She says Cody's family lives here because there is not family housing available where Cody is located.
"It's nice to have our granddaughter and daughter-in-law here, but it's sad that they don't get to be together," says Joci Nelson. "Hopefully that will change soon."
Family being apart is never easy, especially with the Thanksgiving and Christmas holidays approaching.
No matter how long it takes, Nelson says the family holiday meal always waits for her Marine sons to come home.
"Every year we have a fake tree so we can keep it up longer," she smiles. "We don't have Christmas until they come home."
Speaking of coming home, the Nelsons did get to enjoy a homecoming with Kaelan when he returned from Afghanistan about three months ago.
The homecoming at Pasco's airport was made all the more special thanks to Operation Thank You, an eastern Washington group that welcomes soldiers home from overseas, and provides other support such as sending care packages to those in the military.
Whether they're stationed near or far, Joci says she is pleased with her sons' service in the Marines.
"I'm extremely proud of them," she says. "I just don't watch war movies anymore."
She adds that her sons' military service makes her also even more proud of the U.S.
"We're a patriotic family, we love our country," she says. "I give thanks to God and all the men and women who have helped make our freedoms what they are today."