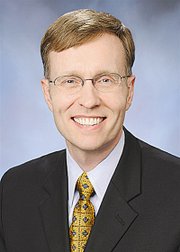 Rob McKenna is Washington's attorney general, but he is also the leading Republican candidate for governor in 2012.
Last Thursday he was wearing both hats during a one-on-one interview with the Daily Sun News while visiting Sunnyside.
As attorney general, for example, McKenna has twice pushed for legislation to curb criminal gangs.
If elected governor, he says, he would provide help for getting legislation approved.
McKenna noted the last anti-gang bill died in Olympia due to lack of funding for implementing the plan. That won't happen under his watch if elected governor, he says.
"I will include money in my budget to fund a gang bill," he said.
While gangs are a concern, the latest news out of Olympia causing the most heartburn for many in the Lower Valley are proposed education cuts by current Gov. Christine Gregoire.
The draconian measures include shelving school bus services at a savings of $220 million and cutting levy equalization to save $300 million.
The levy equalization cuts, say local educators, would mean the loss of 160 jobs in Sunnyside and Grandview alone. McKenna, the son of a school teacher, shakes his head at that forecast and says there are ways to balance the budget without such deep cuts to K-12 education.
"I want to see education restored to 50 percent of the budget instead of the 40 percent it is now," he says. "We can't do it all in one budget year, but we can start. Right now there's not a vision for education funding."
McKenna says it's not just a pipe dream either, and says the state could be more efficient in how it budgets its money.
He also says more will need to be asked of public employees.
To balance the budget, and retain funding for student learning, McKenna said state and school district employees will need to pick up more of their health insurance costs.
As an example, he notes, costs to the state for public employee health care premiums will go up by $220 million next year. If employees paid that premium increase alone it would nearly fund levy equalization, McKenna observed.
Making ends meet, while meeting the state's constitutional requirement to provide K-12 education, also means some tough news for state agencies.
"We need to shrink general government," says McKenna, who has reduced the attorney general office costs by 15 percent.
He says the average for most state agencies is reducing costs by 8 percent.
While stopping short of saying all state agencies should pursue 15 percent in cuts, McKenna noted, "We better be at least looking at it."
As for what he saw while in Sunnyside last Thursday as a guest of Sunnyside's Promise, McKenna was encouraged to see citizens pulling together.
"Sunnyside's Promise is a very inspiring model of community action," McKenna said. "We need to see their model spread out in the state."