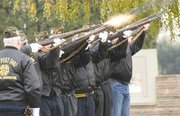 Sunnyside-area residents took time on Veterans Day this past Friday to remember those who have served in the military.
The program at the Veterans War Memorial included a moment of silence, as well as a moment to read aloud the name of all 46 local soldiers who were killed in action, as well as the 17 local men who were missing in action or prisoners of war.
"It's an honor to remember them each year," program coordinator Greg Schlieve told the 40 or so folks in attendance.
There was one unplanned speaker at the ceremony, Raul Fraguadapena of Puerto Rico who now calls Sunnyside home. He served with an air calvary unit in Mosul, Iraq, where he was injured.
"I lost a couple of friends over there and their graves are far away," said Fraguadapena. "That's really why I'm here, to pay their respects."
The featured speaker last Friday was Sunnyside City Manager Mark Gervasi, who said accounts of military service need to be remembered, "handed down to our children."
Gervasi also encouraged the audience to remember the sacrifice made by veterans not just on Nov. 11, but throughout the year.
"When you wake up on Nov. 12, remember it's still Veterans Day and will be every day," he said.
Gervasi closed by asking community members to look after each other.
"We must take care of each other in the battlefield of life," he said.