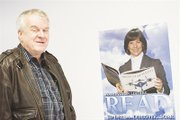 When Arni Sigurosson of Iceland spent the 1966-67 school year in Sunnyside as a foreign exchange student with International Youth Christian Exchange, he didn't envision the ties established here would someday serve a purpose of promoting international relations.
This week, however, those ties are helping him bring a former classmate to Iceland to promote education in science, as well as to promote international relations.
Sigurosson graduated with the Sunnyside High School class of 1967, which also included eventual astronaut Bonnie Dunbar. During his year in Sunnyside, he lived with former Washington Elementary School Principal Clyde Henry, whose wife Eva was a science teacher at Sunnyside Junior High School.
When Sigurosson returned home to Iceland, he pursued a career as a pilot, flying DC9s.
He also became a member of the Iceland-American Society, which has a vast reach for promoting relationships between his country and the U.S.
Every few years Sigurosson visited Sunnyside and met up with former classmates. In the early 1990s he attended a class reunion, and Dunbar was in attendance as well. The two struck up a conversation about their respective careers, according to Sigurosson.
"We kept in touch...now, my daughter is an astrophysicist...she was inspired by Bonnie," said Sigurosson.
He said Dunbar is an advocate of education. She is also an advocate for the sciences.
In Iceland, science is not widely pursued and Sigurosson said he feels Dunbar can inspire students there.
Over the past few years, foreign relations between his country and the U.S. have not been particularly good, he said.
However, the new U.S. ambassador to Iceland, Luis Arreaga, has been working to improve the relationships. Sigurosson said Arreaga recently met with the Iceland-American Society to discuss ways to go about making those improvements.
That's where Sigurosson spotted an opportunity, and suggested contacting Dunbar.
"I suggested she could talk to students at the University of Iceland," he said.
The ambassador was pleased with the idea, and Sigurosson set to work setting up an itinerary after contacting Dunbar.
She was willing to travel to Iceland to promote education and the sciences, as well as to make a few media appearances.
"She is also on the president's calendar for Monday," said Sigurosson, stating Dunbar is scheduled to meet with the president of Iceland.
Today, Tuesday, he will fly Dunbar from Seattle to Iceland. She is set to speak to the university students on Thursday.
"She will talk about the future of space exploration," said Sigurosson.
He said the hope is to provide students in Iceland the opportunity to learn about careers in the field of science, but the main objective is to improve the relationship between the two countries.
As a pilot, Sigurosson said he feels it is important that individuals pursue their dreams.
"I had an advantage when I first became a pilot because I already could speak English," he said.
That advantage led to an esteemed career, and he has flown nearly every commercial plane from the DC9 to a 767.
"I was the first pilot to land in the U.S. following 9/11," said Sigurosson, who said he was in the air when terrorists attacked the U.S. on Sept. 11, 2001.
He was, at the time, flying over Scotland and remembers receiving an onboard fax about the terrorist attacks.
Because several people were grounded in Iceland following the attacks, pilots had to await approval to transport them to the U.S.
Sigurosson was among the pilots cleared to transport the stranded travelers on Sept. 13, 2001.
"I landed in upstate New York, near Canada," he said.
That is one of many tales Sigurosson has of his time as a pilot.
He said his educational experiences, including those he had in Sunnyside, helped him pursue his dream which led to those experiences.
Sigurosson's current dream is to inspire the next generation by improving relations between his country and the U.S. and providing students the experience of hearing from prominent members of the U.S., like Dunbar.