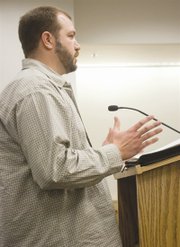 The city of Sunnyside is closer to signing a 10-year agreement with Yakima Waste Systems that would provide citizens with wheeled garbage cans.
A public hearing on the matter was held at last night's Sunnyside City Council meeting during which residents had the opportunity to voice their support or concerns.
Present for the meeting was Aaron Redmond of Yakima Waste Systems. He said the containers would cost residents an additional 60 cents per month on top of the current garbage bills.
A 48-gallon wheeled can is available for those who use one 32-gallon garbage can. For those who use three 32-gallon cans, a 96-gallon wheeled garbage can is available.
Redmond said the 60 cent rate hike would cover the costs of purchasing the truck used for waste collection, which has a mechanical arm.
Jason Hudson of Yakima Waste Systems said the company doesn't anticipate any other rate hikes for customers in Sunnyside.
Sunnyside resident Pam Turner said she has space issues and the 96-gallon can will not fit in her garage. She said her neighborhood has in place a covenant that prevents residents from leaving cans within sight of the curb when it is not garbage collection day.
Laura Gjovaag, another resident, spoke in favor of the new wheeled cans, stating she is familiar with the service because it is similar to that which she received prior to moving to Sunnyside. She also said she is in favor of an eventual recycling service.
Redmond told those in attendance there are many benefits to the new service that outweigh the drawbacks. He said the one can is easier to move and neighborhoods appear cleaner.
Hudson spoke to the issue of recycling, saying Yakima Waste Systems currently removes recyclable materials from recycle drop-off sites. The materials are transported in a truck that looks much like a regular garbage truck to the company's Yakima location. Recyclables are sorted there and transported to another location on the west side of the state for processing. As a result, the processing is expensive.
Councilman Mike Farmer chose that time to voice his concerns regarding whether or not the city did its due diligence. He felt the city should have sought bid proposals for the garbage services.
Other council members said they were happy to see the proposal from Yakima Waste Systems because they believe neighborhoods will be cleaner, fewer cans will be knocked over and citizens can easily wheel the cans to the curb for curbside pick-up.
Councilwoman Theresa Hancock asked what would become of the old garbage cans and Hudson said Yakima Waste Systems has agreed to collect them for disposal.
Following the public hearing, the Sunnyside City Council agreed to move forward and enter into an agreement with Yakima Waste Systems at one of the next two regular City Council meetings.