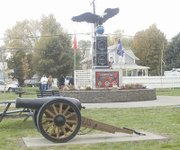 GRANGER - Just two weeks after Ramona and Hector Fonseca were married, Hector packed his bags and shipped off to Vietnam for war.
If the woes of war aren't atrocious enough, troops in those days were subjected to hateful words from their fellow Americans; calling them "baby killers" and the like.
"They didn't thank us for fighting for them," Fonseca said.
Instead, troops were blamed and chastised.
"We came home from war to (be met with) a different kind of war," he added.
More than 30 years later, Ramona Fonseca, City of Granger mayor, decided it was high time to take back the hateful words and replace them with honor and valor, both of which a veteran is deserving.
She approached city staff with an idea to create a memorial for those living and passed away to be remembered in a better light.
"The troops weren't welcomed home when they stepped off the plane, and most of the time couldn't wear their uniforms out in public," she said.
This past Veterans Day, Friday, Nov. 11, nearly 150 Granger residents gathered to remember all veterans. The emotional ceremony also served to unveil the culmination of work the city staff did in nearly three months prior to the opening.
The city staff put their heads together and designed a memorial that stands more than 12 feet tall. At the base of the statue area citizens can purchase a plaque engraved with their loved one's name, military branch and time served.
"The name plates are $10, but if someone can't afford it we can work something out," Granger Public Works Director Jack Burns said.
The most important thing to the Granger city staff is that veterans receive the honor they are due.
In addition to the structure already in place at the old theater park on Second and Main, plans to add an old ship anchor along with a display case are set for the coming months.
Burns said the display case will feature anything residents might want to submit, including letters from war, photos and medals. The case will be secure and set up for onlookers to remember those who fought to maintain the American way of life.
For more information or to order a plaque to honor your veteran, call the City of Granger at (509) 854-1725.