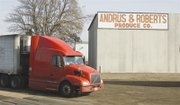 It was a slow month for new building permits issued in Sunnyside during October.
Only 15 new building starts were issued permits last month, eight of them for re-roofing projects.
All told, new building valuation last month was just $93,198. Of that, nearly $50,000 was for a single re-roofing project for Andrus & Roberts Produce at 101 Waneta Rd.
The eight roofing projects green-lighted last month had a combined valuation of $81,130.
City of Sunnyside coffers received $1,072 in permit fees last month, about $600 of that from roofing projects.
The other seven new building starts approved in October included adding a new deck, installing sheetrock, new windows and new doors.