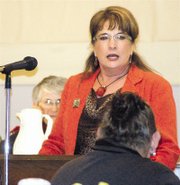 PROSSER - Comparing her life to a refrigerator that needed to be cleaned out, Sue Ann Haberly of Cottage Grove, Ore. told the Lower Valley Christian Women's Connection how she overcame a difficult childhood.
Haberly's comments came yesterday, Tuesday, during the group's monthly luncheon in Prosser.
She noted that her parents divorced when she was four years old and her mother showed no feelings towards her.
"My mom wouldn't hug me," Haberly said. "She said she didn't really like me because I look just like my father and he hurt her so much she didn't want to have anything to do with him."
She said it took decades to overcome that lack of acceptance. "I never felt accepted, I felt unwanted," Haberly said.
She said the unresolved past was like a stale mold collecting in a refrigerator and it affected all of her relationships, including that with her husband.
Even now, she says she's still dealing with that past. "I'm still cleaning out my life," she said.
After a period of depression in her 30s, Haberly said her life took a positive turn when she started getting involved with women's Bible studies.
She noted that a friend invited her to Bible studies over a period of 10 years before she started attending. "I finally went so she would quit bugging me," Haberly smiled.
She said that allowing the love and forgiveness of Jesus Christ to heal the past not only helped her, but it has enabled her to reach out to others in an international ministry.
Using both her own example, as well as that of her mother who found Christ after finally accepting an invitation to a Bible study, Haberly told the women to be persistent in inviting others to their luncheon and their Bible studies.
"Don't give up, keep asking them," Haberly encouraged the ladies. "You can be an impact in someone's life by sharing the message. Who knows, there might be a Sue Ann in your life that you can share with."