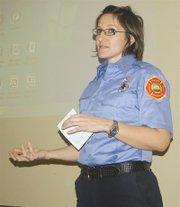 Whether it's fire, flood or an extended power outage, emergencies do happen and the time to be ready is before they happen.
That's the message from the Yakima Valley Chapter of the Red Cross, which is providing a series of presentations around the county focused on disaster preparedness.
Last night, Tuesday, the Red Cross was at the Sunnyside Community Center, where spokesperson Tiffany Gadison encouraged the dozen or so people in attendance to be "Red Cross ready."
Gadison noted, "Know what emergencies are most likely to happen in your area." She added that only about one-in-eight people are prepared for disasters or emergencies.
Getting prepared means having a layout of your home indicating exits and emergency supplies, as well as keeping a store of water, canned goods and other non-perishable items on hand, she said.
Other supplies, Gadison says, should include first aid supplies, batteries, flashlights and medical prescriptions.
She notes it's a good idea to practice emergency evacuations from a home or office and to plan ahead for the needs of infants and pets.
Each person in attendance received a sheet of paper to document an emergency plan for their household. It includes the names and contact information for family physicians, emergency telephone numbers and a designated place for family members to reunite in case they have to flee their home or neighborhood.
Sunnyside firefighter/paramedic Holly Van Schaick also spoke last night, and she encouraged the audience to keep an eye on preventable emergencies.
She says steps like cleaning out chimneys once a year, cleaning out the ashes from the fireplace and regular smoke alarm checks can help prevent fires.
Other steps Van Schaick suggested to prevent devastating fire emergencies include only using electric heaters that automatically shut off if they are tipped over and checking power cords to see if they are cracked or have exposed wiring.
For more information on disaster preparedness visit www.yakimaredcross.org or call 509-457-1690. A toll-free 211 line is also available in Yakima County from 8 a.m. to 5 p.m. Monday through Friday for information on social services available. The 211 number can also be reached toll-free at 1-877-211-9274.