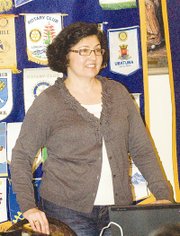 In 1997, fish in the Yakima River had the highest concentration of DDT in the country.
By 2009 the Washington state Department of Health had lifted the DDT fish consumption advisory on parts of the river, thanks to efforts by local farmers and irrigation districts to make the water safe again.
Elaine Brouillard, a water quality specialist with the Roza-Sunnyside Board of Joint Control, presented information about the reduction of DDT in the Yakima River to those gathered at Monday's meeting of the Sunnyside Noon Rotary Club.
Brouillard explained how DDT tends to attach itself to sediment, so reducing the amount of sediment that made its way into the river would reduce the amount of DDT in the fish living in the river.
The Roza-Sunnyside Board of Joint Control worked to educate local farmers about the problem, creating partnerships with the farmers and encouraging self-regulation.
The board also helped provide loans to farmers to upgrade rill irrigation to spray or drip irrigation. Rill irrigation, which uses shallow trenches filled with water to irrigate a field, tends to have high erosion and runoff.
The irrigation districts involved in the board also had the option to lower the water flow to any non-compliant farmer, and reduce it further if the problem continued. Brouillard said the districts haven't had to go to the second reduction step with any farmer.
The result has been a dramatic improvement in the water quality of the river in half the expected time. The efforts are now touted by the EPA as a model of how to improve water quality.