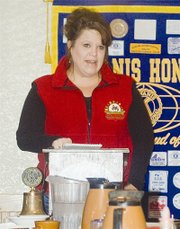 Sunnyside's 23rd annual Lighted Farm Implement Parade will be held Saturday, Dec. 3, and Pam Turner of the Sunnyside Chamber of Commerce told the Sunnyside Kiwanis Club members this past Wednesday morning that everything is going pretty much according to plan.
Turner said the parade has 15 entries so far this year, but that's normal because everyone tends to wait until the last minute to enter, giving her a lot of work leading up to the parade. The average number of entries is 60 each year.
The parade started in 1988 and has become an event attended by people from around the state and nation. Because of the popularity of the parade, the Chamber is attempting to trademark the name. Turner mentioned an event in Michigan that incorporated lighted farm implements into its parade name.
At a question from the audience, Turner explained that buses that come in and are parked along the parade route are partly there for crowd control. In addition, some nursing home residents stay on the heated buses during the parade.
Turner also mentioned that some people want to enter the parade on foot, and why that's a bad idea. The combination of heavy farm equipment and people walking along can be very dangerous.
For the same reason, throwing candy from parade entries is prohibited. It would be entirely too easy for a small child to run out into the parade route after a piece of candy only to be hit by a large tractor in the dark.
Turner also mentioned that the Sunnyside Christian School eighth graders will be decorating Centennial Square on Nov. 22 as part of their service project.