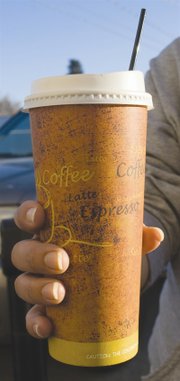 When talking about the price of a cup of coffee, consumers don't always realize what contributes to how much money they have to pull out of their pocket to pay for it.
Whether it's the commodity price for coffee beans or the increase in labor costs, local coffee lovers are certain to see the cost of their favorite beverage rise in the near future, according to several sources.
Avalanche Distributors in Zillah is co-owned by Dick Fergus. His company delivers coffee beans to several coffee stands throughout the Yakima Valley. He said there was an increase in the cost for coffee beans at the beginning of 2011, but it is unknown what the immediate future holds.
"Just like any other commodity, the increase impacts customers negatively," said Fergus, stating some coffee stand owners will pass a price increase on to the customer and others won't.
Ultimately, he said, "a good portion of the stands did raise prices to reflect increased costs (earlier this year)."
Fergus said costs for a cup of coffee may also have increased because the cost of sugar and chocolate, used for lattes, has increased, as well.
Aaron Guerra, manager of Guerra's Coffee Company in Sunnyside, said his business has been impacted by the cost of coffee, which he anticipates will be rising even more.
He tracks the commodity through the market and said coffee bean prices rose 177 percent three months ago. One distributor offered to charge him between $10 and $12 wholesale per pound of coffee. He said this is reflective of higher coffee prices than he paid last year.
Guerra, referring to the commodity market, said he believes prices will increase even more because the coffee tonnage was reduced by producers.
"I have already raised my coffee prices...I raised my employee wages in anticipation of the new minimum wage and already the business has seen a negative impact," said Guerra.
Daily Buzz owner Patty Graham, who operates an espresso shop in downtown Sunnyside, said she didn't raise prices earlier this year, but was recently forced to raise prices by 25 cents per beverage. She said the increase for her stand is due to the 2.5 percent increase in L&I taxes, as well as the anticipated minimum wage increase.
"Some coffee shops add the (sales) tax to the price, but I include taxes in my price," said Graham.
She said adjusting the price of beverages sold at her business is unavoidable, but she is happy it can be a flat rate across the board.
How does this all affect the consumer who elects to purchase coffee off the grocery shelf?
Sunnyside Safeway store Manager Nate Payne said he hears about the commodity price increases just as everyone else does. However, at the store level, he hasn't seen prices increase significantly.
"Maybe it's a trickle-down effect...I haven't heard anything from Safeway," he said, stating he has only heard through news reports that prices should begin to increase.
Regardless, coffee lovers can expect to pay a little more to get themselves started each morning.