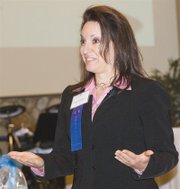 GRANDVIEW - It's that time of year again. The Washington State Grape Society yesterday (Thursday) and today hosted its annual meeting in Grandview.
Yesterday's featured speakers included Gina Nicholson and Kristine Rogers of Kroger Co. Corporation.
Nicholson shared with grape producers and processers the importance of changing behaviors and attitudes associated with food safety.
She said it is important to sell the concept of food safety from the top down and making it personal is one way to do so.
Food safety, said Nicholson, has a way of making the headlines. A recent example of headlines related to poor food safety was the Listeria-laden cantaloupes sold by Jensen Farms.
"It all boils down to behavior," said Nicholson.
"Behavior is everything."
She said behavior can be affected in a variety of ways, including peer pressure.
Adults can be influenced by others as much as children can, said Nicholson, stating perceived achievability is another influence on behavior.
If someone believes something is easy to achieve, they are more likely to behave in a manner that helps them achieve a particular goal.
Meeting FDA standards is an example of such a goal that growers and processors should strive to achieve, but often perceive as difficult.
Nicholson said consumers expect FDA standards to be met to ensure safe food that is of a quality standard. It also protects growers and decreases liability issues.
"Of course, there's non-compliance," said Nicholson, stating growers and processors have a choice as to whether they want the consumers' trust.
Jensen Farms, she said, is now viewed in a negative light because the trust of the consumer was lost with the Listeria case. The farm's mistake was not managing temperature controls to ensure food safety.
Nicholson said growers and sellers of food must believe in their product, therefore they should believe in selling food safety to the employees as much as the public.
"One must be committed to food safety," she said.
To take action and to convert behaviors regarding food safety, Nicholson said it begins at the top. Those in charge should provide the tools for food safety to everyone working for them.
At Kroger stores, for example, she said fried and rotisserie chicken are popular items. Employees are provided with thermometers and temperatures for properly cooked meats. That ensures the chicken is cooked to the correct temperature for killing salmonella.
"Practicing food safety must begin at the top," said Nicholson.
Everyone handling the food, everyone marketing the food and everyone in charge must be passionate about food safety in a positive way.
Nicholson said employees can receive information about food safety in a variety of ways, including posters, video training and computer-based training.
She said it is important to keep it simple by setting expectations and standardizing practices. Food safety can be made personal by teaching individuals how to practice it at home.
"Making it personal makes it easier to sell," said Nicholson.
She said it is important to understand those to whom you are trying to communicate with to help them respond in a positive manner.
Rogers spoke briefly about creating excitement and making food safety personal through a program implemented at Fred Meyer stores in the Portland area. Germ City is a booth set up to encourage proper hand washing practices. Employees and customers connect with the important message because they are able to see the results of improperly washing their hands.
Rogers explained those who take advantage of the learning opportunity apply a special lotion that illuminates under black lights. They wash their hands and enter the booth to see if they sufficiently eliminated all traces of the lotion.
The program, said Rogers, was developed by a Washington State University Extension Center employee.
"Customers and employees are excited about it," said Rogers.
Nicholson said another way to make food safety a personal issue is to put a face on it. To do so, the consequences and tragedies that result from poor food safety standards can be highlighted.
She shared a story of a little boy who died as a result of a food borne illness and showed growers a series of photos of individuals who have suffered illness caused by bacteria in food.
Both Nicholson and Rogers said food safety is personal for them because they think of the consequences that may directly affect their own children.
Nicholson said, "We must practice food safety at all times, striving for 100 percent execution because it doesn't take much for the germs to cause illness."