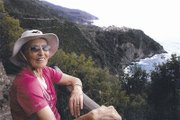 The Sunnyside Friends of the Library will sponsor a "Travelers' Round Table" this coming Sunday, Nov. 20.
Community members who have traveled to various destinations or who are interested in learning about the ventures of others are urged to come together for the Sunday event.
Sharing photos and stories from her travels to the Tuscany region of Italy will be Ruth Strang.
The free event will be held at 1:30 p.m. at the Sunnyside Library. Refreshments will be provided.